Motorola Moto G (Gen 3) Leaked by Retailer Again, 2GB RAM Tipped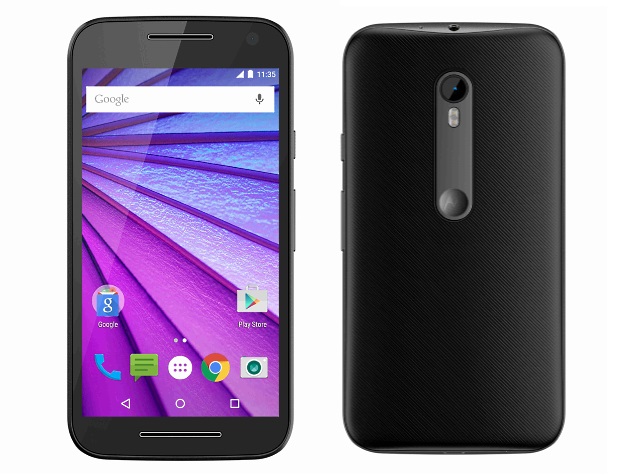 Soon after being listed by a Spanish e-commerce retailer, the yet-to-be-announced Moto G (Gen 3) has been listed again by a Swiss retailer, this time tipping the price, design, and specifications of the handset.According to the Digitec listing (now pulled down), the third-generation Moto G will be priced at CHF 235 (approximately Rs. 15,500). The online retailer's listing (via Giga.de) claims that the Moto G (Gen 3) will feature a 5-inch full-HD (1080×1920 pixels) display; 441ppi pixel density; 2GB of RAM; 1.7GHz quad-core processor; Android 5.0 Lollipop; 8GB of inbuilt storage; expandable storage support via microSD card (up to 128GB); Micro-SIM support; 2070mAh battery; measure 141.5×70.7x11mm, and weigh 149 grams. Unfortunately, there is no word on the camera details of the handset.
The retailer also listed Moto G (Gen 3) images that were in line with previous leaks. The front of the Motorola Moto G (Gen 3) looks largely similar to the second-generationMoto G while major changes are apparent at the back panel. The LG-like vertical strip near the rear camera on the Moto G (Gen 3) can be seen housing the rear camera at one end and the Motorola logo at the other. A dual-LED flash is also seen placed on the strip.
While most of the innards tipped by the online retailer are in line with previous leaks, there are a few differences as well. The Moto G (Gen 3) was previously tipped to pack a 2470mAh battery alongside supporting 4G LTE connectivity. Earlier leaks have suggested a 13-megapixel rear camera and a 5-megapixel front camera.
In-line with the current online retailer listing, a recent report claimed 2GB of RAM alongside IPX7 certification for the handset. An earlier report even suggested that the Moto G (Gen 3) would come in two variants: 8GB inbuilt storage with 1GB of RAM, and 16GB storage with 2GB of RAM.
Notably, the India invite said, "A good friend will offer you their umbrella when it rains. A best friend will forever be ready to dance in the rain with you," hinting that Moto G (Gen 3) would be waterproof. The IPX7 certification further cemented the speculations.
Motorola has already confirmed an event on July 28 where the company is expected to launch its new Moto G (Gen 3) and Moto X (Gen 3) smartphones.
["source – gadgets.ndtv.com"]