Delhi University Teachers Protest Against MHRD Circular On 7th Pay Commission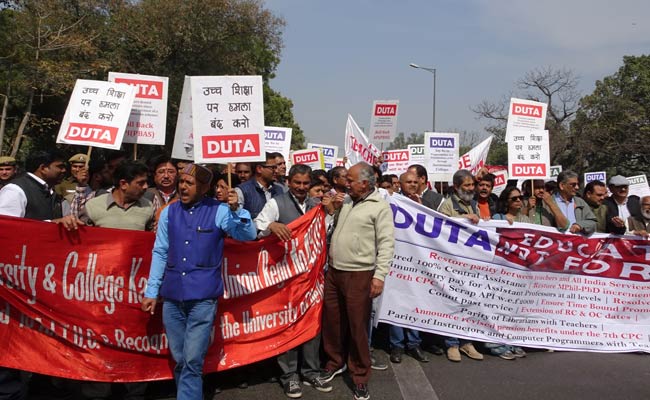 Delhi University Teachers Protest Against MHRD Circular On 7th Pay Commission
The Delhi University Teachers Association (DUTA) today took out a march to protest against the "funding formula" of the HRD Ministry for salaries under the Seventh Pay Commission.
Education | NDTV Education Team | Updated: February 08, 2018 21:47 IST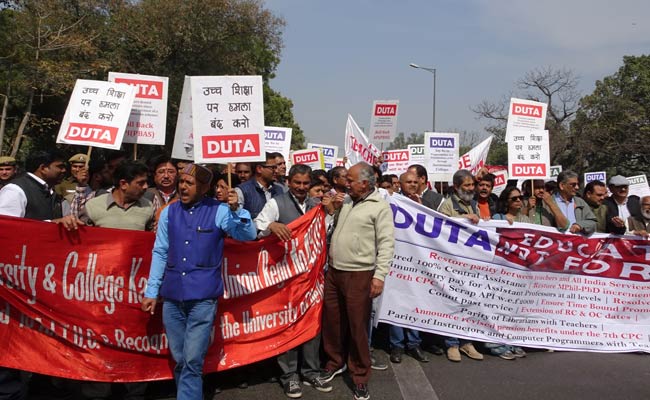 NEW DELHI: 
 More than four thousand teachers and karmacharis marched from Feroz Shah Kotla to the University Grants Commission (UGC) office today while the meeting of the full Commission was taking place. Protesting against the recommendations of 7th Pay Revision Notification, the programme under the banner of DUTA and DUCKU reflected the dismay and the anguish of the university community about the implications of the funding formula by which the universities are being forced to generate resources to the tune of at least 30%. 
"Teachers and karamcharis are anguished about the delay in disbursement of revised salaries as per the 7th Pay Revision. There is a growing fear it may get further delayed because of the 30-70% funding formula notified by the MHRD," said a press release by Delhi University Teachers Association (DUTA).  
According to DUTA, as per the MHRD Office Memorandum released on January 13, 2017, the Central Universities are supposed to get only 70% of the enhanced financial burden on account of the Pay Revision, the rest to be met by the Universities through self-generation of resources. 
"This is an unprecedented attack on the character of the public-funded institutions as it threatens to reduce funds to institutions of higher learning. Also State Universities have been allocated only 50% of Central assistance and that too for a reduced period of 39 months, i.e. till 31.03.2019, as opposed to the Central assistance of 80% for 51 months in the last pay revision," said DUTA. 
The organisation also said withdrawal of public funding will push the burden of maintaining Central and State Universities on students, it will increase the expenditure of parents and students towards education manifold.
DUTA also said glaring anomalies of the last pay revision have not been addressed, resulting in downgrading of Assistant Professors at every level. 
"The pay revision has created a situation of compulsory stagnation for all senior teachers, including Associate Professors, Professors and Principals very soon. The fitment formula for incumbent teachers on 1.1.2016 is retained at 2.57 which amounts to a measly 14.27% increase: the lowest in independent India," it said. 
["Source-timesofindia"]